On 8th September, at the headquarters of Vinsofts ., JSC, the meeting "Publicizing Personnel Strategy for 2018-2020" was held with the participation of the Board of Directors and all employees.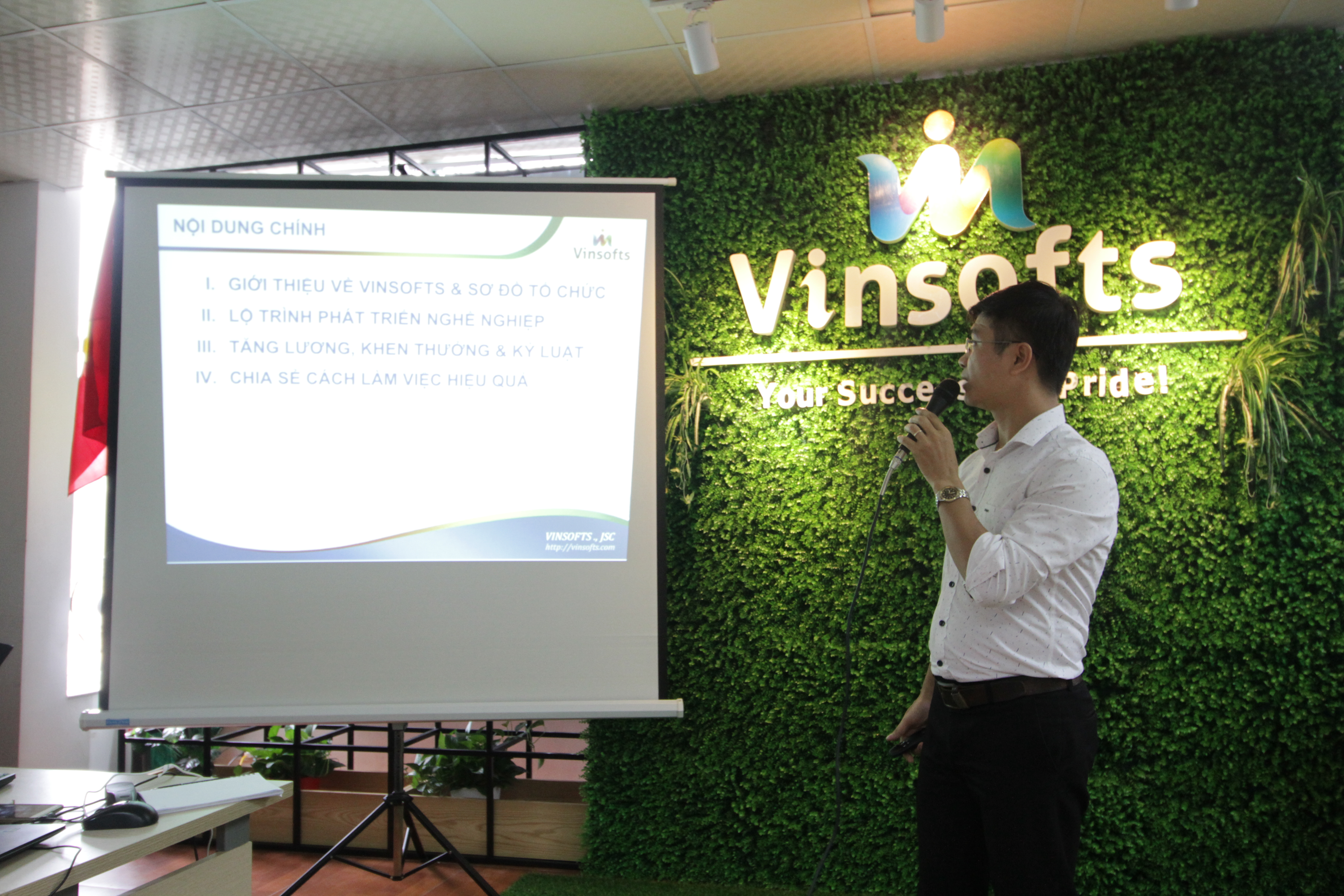 Mr. Vu Van Tien – Vice Director of Human Resources Department presented the development strategy in the period 2018-2020
At the meeting, Mr. Vu Van Tien – Vice Director of Human Resources said: "Vinsofts Joint Stock Company is currently operating in the main areas such as: Mobile application Development, Web application Development, Cloud, E-Commerce, develop application based on 4.0 technology (Blockchain, AI, BigData, IoT, ..), training services on information technology …
And the top priority in this phase is to improve the quality of outsourcing services, ensuring customers are always satisfied."
If your company is looking for the best IT solution, do not hesitate to contact Vinsofts for advice and support as soon as possible.
"Vinsofts Human Resource Strategy (HR Strategy) is based on five core values: honesty, dynamism, creativity, responsibility and giving priority to customers. Each employee at Vinsofts will be a representative of the company, contribute to building and developing to the company." said Vu Van Tien.
Investing in Human resources is a sustainable strategy for Vinsofts to achieve the goal to become the TOP 5 IT Company in Vietnam and reach TOP 10 in Southeast Asia, having prestige all over the world.
In the period to 2020, Vinsofts will strive to achieve annual revenue of $ 10M with company size up to 250+ employees and provide the best IT solutions for businesses.
In addition, Mr. Vu Van Tien has set the development orientation of the company: focus on continuous training, updating the up-to-date technology to enhance the capacity and effectiveness of each employee, develop the quality of every member.
In addition, Mr. Tien also outlined two development paths of an employee while working in Vinsofts in two directions: Management direction and Technical direction. Each direction identifies requirements such as how many years of experience, job responsibilities, skills to be cultivated and salary levels as well as possible benefits. As a result, each employee can identify a suitable path for themselves, explore and learn the skills needed to maximize their ability in job. This also helps to optimize the workforce, improve the quality of work performance.
In the meeting, Mr. Tien also mentioned the salary increase, reward and discipline policies for employees. Company promises to have a special bonus policy for employees who show good performance, have a high sense of responsibility in work and contribute to the company's overall operations.
"Reward policy will be based on the KPI score to decide on salary increase for employees. The excellent members will be considered by the company to join the KEY members with special salary and benefits" said Mr. Tien.
In addition, the company introduced disciplinary rules for violating members with three levels: notice of reminder, no increase of salary and terminate labor contract.
Finally, Mr. Tien also pointed out some of the current limitations of staff and shared more effective ways of improving the quality of working performance.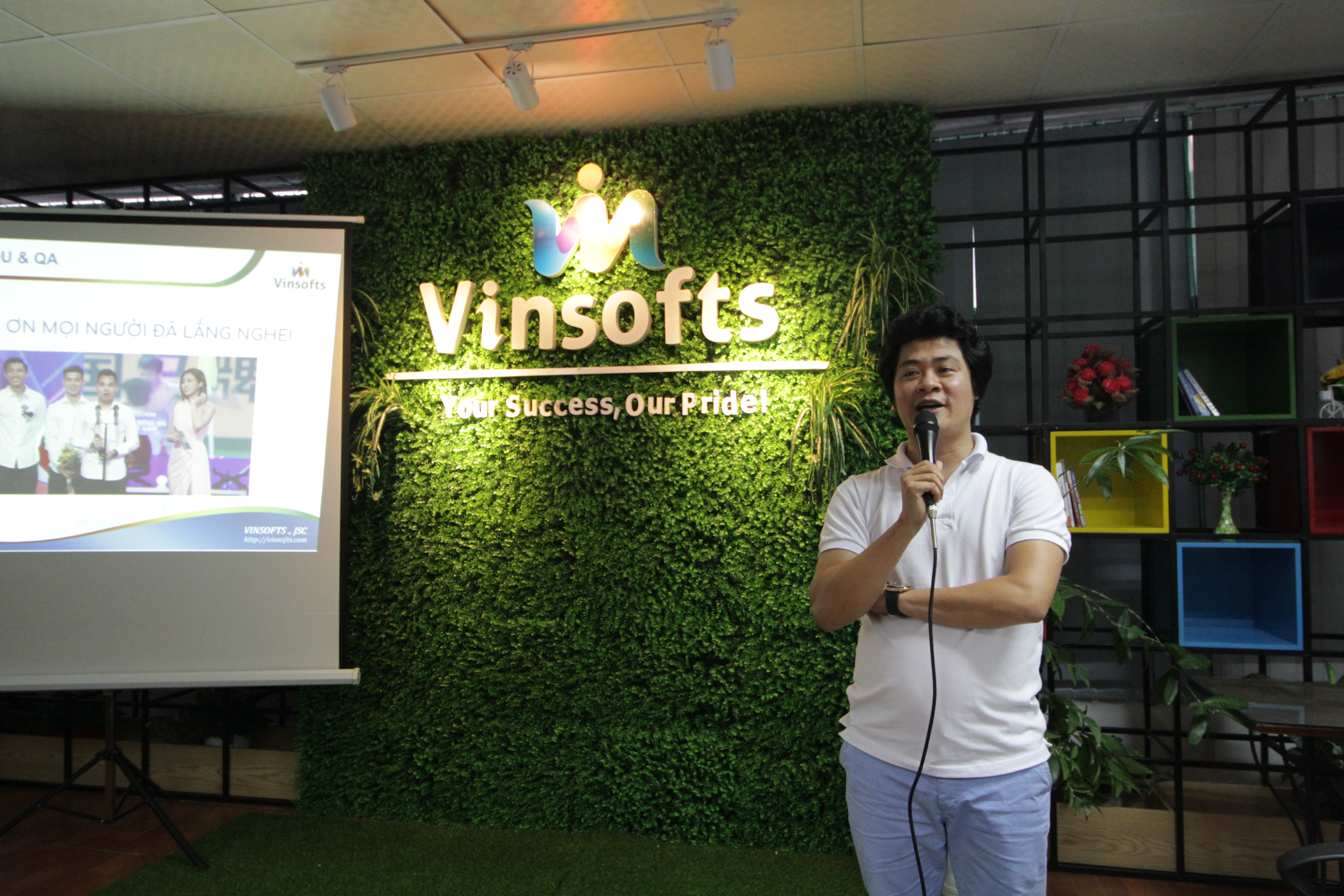 Mr. Nguyen Van Tiep – Director of Communications & Marketing gave a speech in the meeting
Ending the meeting was the speech of Mr. Nguyen Van Tiep – Director of Communications & Marketing of the company sharing experiences in the process of developing himself. After the sincere speech emphasizing the spirit of honesty, solidarity, dedication of every member in Vinsofts, the meeting ended with enthusiastic applause and the whole chorus shouted "WE ARE VINSOFTS".
If you want to participate in a young and creative working environment, please apply right away to become a member of Vinsofts family!
>>> Check out the video of the meeting below: