1. The influence of Covid-19 in firms
The Covid-19 pandemic originated in Wuhan – China from the beginning of December 2019 to the end of April 14, 2020 and has spread over 210 countries, with nearly 1.9 million cases and more than 126,000 deaths. Up to now, the epidemic has not been controlled and is still spreading rapidly, particularly in Europe, America and many Asian countries. As a result, the world has experienced negative impacts on all socio-economic activities and sectors.
Most industries in Vietnam are harmfully affected. A series of premises are "returned" by businesses after a few months of fighting the pandemic, businesses have suffered many losses with serious revenue declines. Industries such as Tourism, finance, transportation, security, real estate, education, retail, among others are the ones which got the highest damage, forcing businesses to search for potential solutions.
2. Solutions for businesses to overcome the Covid-19 epidemic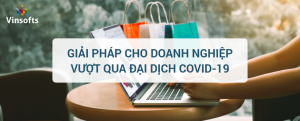 Currently, the epidemic has not been controlled, so we need to welcome alternatives and think more positively. Wise businesses will exit the "in danger" zone if they act proactively. In a critical time, if we seize the opportunity and prepare well, after a pandemic, it will be a leap forward to overcome competitors who have not been well prepared.
During the pandemic, the demand for shopping has gradually shifted Online, this is also a global trend. Your business is not an exception, as changing users' behavior will force your business to adapt to meet customer needs. The best solution is to prepare an effective online business platform and management software to quickly overcome these barriers and being able to reach customers.
3. What do you need to be ahead of your competitors when the pandemic is over?
3.1 Website software and mobile applications to serve the needs of customers
Website software and mobile applications are the space where customers reach and "communicate" with businesses online. Most importantly, customers can view products information and offers as well as placing orders. Therefore, investments in deploying website and mobile apps on demand are extremely necessary. Website and mobile app interfaces are designed according to the needs of each business to bring the right brand identity image to customers. Features are also tailored-made to meet the requirements of particular business process. Designing an optimal customer experience will make it easy for clients to buy and interact with your company, therefore building trust and loyalty.
Mobile apps – an outstanding Marketing channel that businesses should not ignore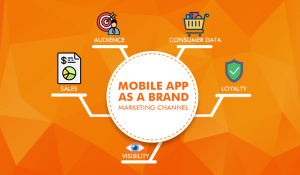 Traditional forms of promotion or Digital Marketing are occupying a large budget of businesses, but the establishment of mobile apps enable business to have a free marketing tool now.
Send push notification to customers when the business has a new product, incentive program, stimulus voucher, etc. This is an important and completely free feature that mobile apps bring. On the contrary, SMS Marketing and Email Marketing are costly tools and always considered "spam" compared to messages received from mobile apps.
When customers install mobile apps on their phones, it means the business is getting free branding every day to customers. The app icon (company logo) becomes a constant in the mind of customers every time they open their phones, combined with receiving useful notifications and offers.
3.2 Business management software
If your company is managing each business department separately with different software, it is urgent to invest in a centralized management software. All administrative personnel management data, business operations management, customers, revenue and expenditure, etc. should be assigned to one place, making it convenient for the executive board to have a clear overview and report.
Enterprises can choose between available management software or tailored-made management software.
3.3 Consolidate personnel and optimize operational processes
Enterprises want to go far and fast and to achieve this, they require the support of their employees. This time businesses can utilize to train and consolidate existing staff, or recruit more professional personnel if the need arises. Management also needs to reassess existing business processes for improvement.
4. Vinsofts – Vietnam's leading company providing IT solutions and applications on demand


Over nearly 10 years of construction and development, now Vinsofts is becoming one of the leading software companies in Hanoi and Ho Chi Minh City. Vinsofts has also completed and successfully handed over more than 500 projects to customers from many countries such as America, Japan, Singapore, Australia, Vietnam, etc.
Customers can refer to Vinsofts projects implemented at: https://vinsofts.com/en/case-study/
Contact Vinsofts immediately for solution advice and Website development, Mobile app development and business management software.