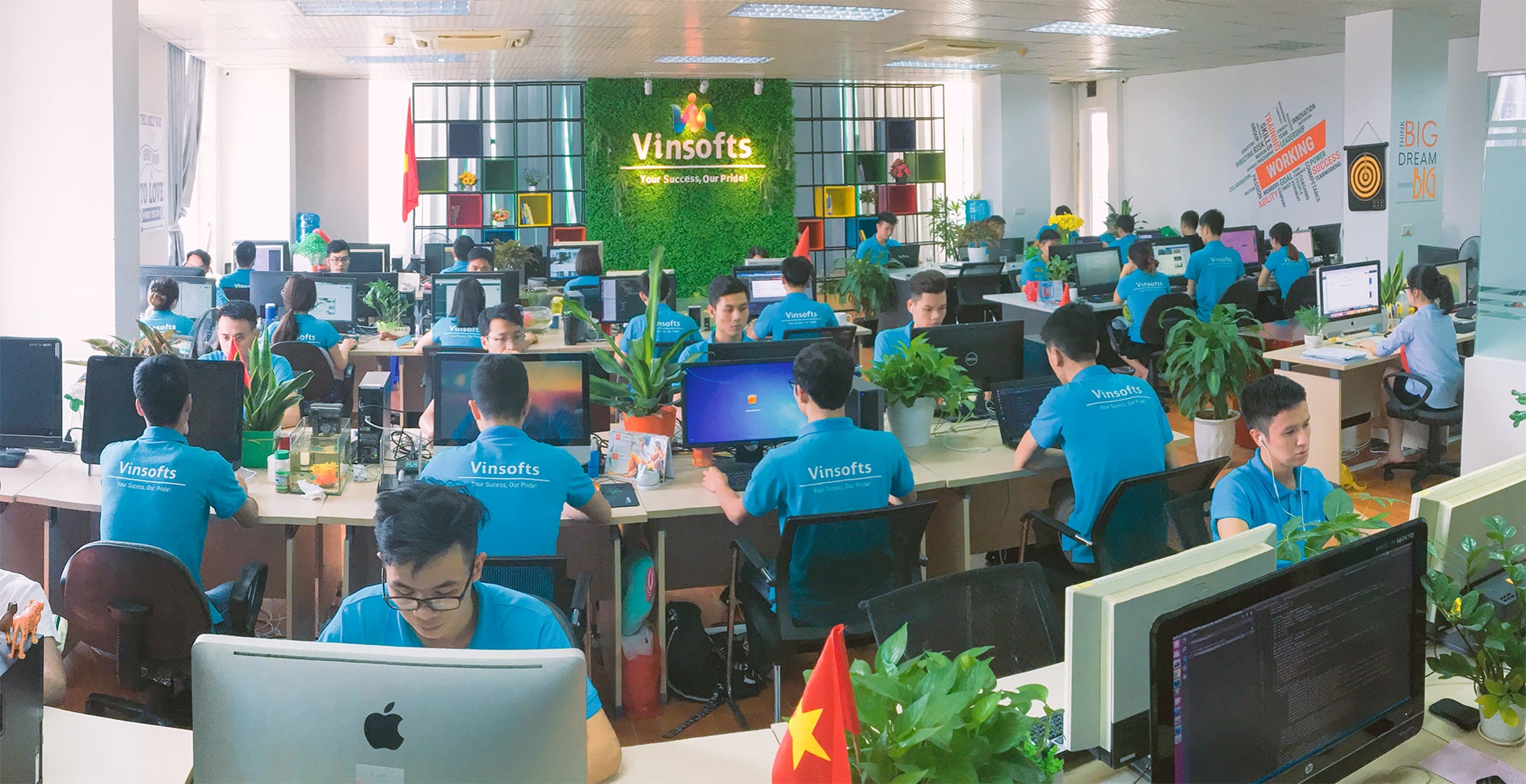 Our History
Vinsofts JSC started back in 2009 when a group of engineers who graduated from leading technology universities, such as Hanoi and Ho Chi Minh University of Science & Technology, founded M-Era Co. The main office of M-Era was located in Ho Chi Minh city, Vietnam and the company had the aim to serve foreign customers who wanted to develop website and mobile applications. At that time, the smartphone technology led by Apple and Google began to flourish, which encouraged the founder team to participate in Google's coding camp, resulting in the team winning the award.
In 2011, the company's founders moved M-Era Co from Ho Chi Minh to Hanoi, where the company operated for 2 more years until it was renamed to VIN Trading and Services Ltd in 2013. In the following years, the company experienced successful growth, which led the founders to rename the company to Vinsofts JSC in 2016, following a new branding and growth strategy.  At present, Vinsofts JSC maintains its core business fields: Website and mobile app development, blockchain technology, E-commerce and ERP solutions and IT services & software.
Our vision is to become one of the biggest technology companies in Vietnam, bearing the brand name of Vietnam software reaching out to the global. Vinsofts is developing the right path, combining software outsourcing and development, applying new technology, step by step asserting itself to be a leading company in the field of technology 4.0 (Blockchain, AI, Digital Transform ). The Board of Directors has clearly defined the steps to build the Vinsofts brand, so that Vinsofts will be known as a leading IT application and solution provider in Vietnam and the region.
Currently, Vinsofts JSC is expanding its Leadership and Senior managers team to achieve the Go Big target in 2018-2020. Major shareholders and managers include:
1. Mr. Phung Van Huan (President & CEO)
2. Mr. Vu Van Tien (Vice Director / Director of Human Resources)
3. Mr. Nguyen Van Tiep (Director of Communications & Marketing)
4. Ms. Norith La Torre  (Global Growth Manager)
5. Mrs. Nguyen Thi Thao (Chief Financial Officer)
6. Mrs. Phung Thi Thu (QA/QC Officer)
Our company will implement the IPO in the period 2021-2023. In the period 2018 – 2021, we are ready to welcome all cooperation and investment from organizations and individuals.
The company was founded
The company was founded on 04/07/2013 with the first name is VIN Software Co., Ltd, the main business areas are Outsourcing, software development and E-commerce solutions, cloud computing, blockchain, …

Company size: 15+ employees

Address: No. 545/26 Pham Van Dong street, Bac Liem, Hanoi
The company continues to expand
Company size: 30 employees

Continued to supply outsourcing services to partners in both domestic and foreign markets.

Developed digital content services such as: baitap123.com, Digital marketing services
Renamed as Vinsofts .,JSC
On 14/03/2016 VIN Trading & Services Company Limited was changed into Vinsofts Joint Stock Company with 3 shareholders.

Company size: 45+ employees
Expand the company's branch
Opened new office at 5th floor, 8 Phan Van Truong street, Cau Giay district, Hanoi

Company size: 70+ official employees and 20+ part-time employees

Main markets: US, Singapore, Australia, Italy, Japan and Vietnam

October 2017: Representative office opened in Ho Chi Minh City: Unit 5 – 16, Block C, Officetel Charmington La Pointe Complex, No. 181 Cao Thang, Ward 12, District 10

Established representative office in Singapore (expected in 2018)
5th anniversary of founding